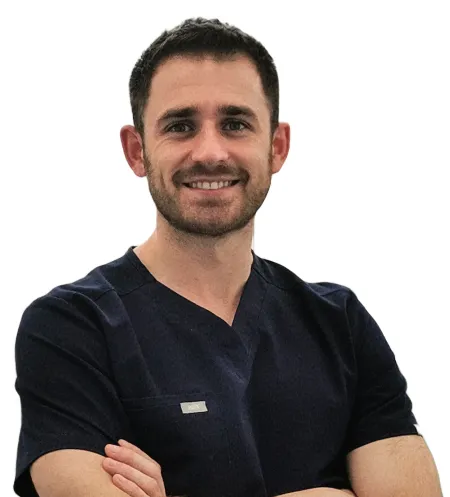 Dr Ben Atkinson
Dentist
BDS
GDC Number. 283257
Ben Atkinson is a skilled dental practitioner with a passion for providing exceptional care in a comfortable and relaxed environment. With a BSc in Molecular Physiology and a BDS (Bachelor in Dental Surgery), Ben brings a strong foundation of knowledge to his practice.
Ben takes pride in offering fast and pain-free solutions for toothaches, making sure patients feel at ease during their visit. He is committed to providing high-quality dental care with a focus on patient comfort and satisfaction.
In his spare time, Ben enjoys pursuing various hobbies, including refereeing professional football, motorbiking, and scuba diving. He believes in maintaining a balanced lifestyle and finds joy in these activities outside of his professional work.
As a dental practitioner, Ben offers a wide range of treatments, with a special focus on Oral Surgery and IV Sedation. He is dedicated to staying updated with the latest advancements in dentistry and continuously improving his skills in order to provide the best possible care for his patients.
If you're in need of a dental practitioner with expertise in Oral Surgery and a commitment to patient comfort, look no further than Ben Atkinson. With his qualifications, experience, and special interests, you can trust that you are in capable hands.
Back to Our Team