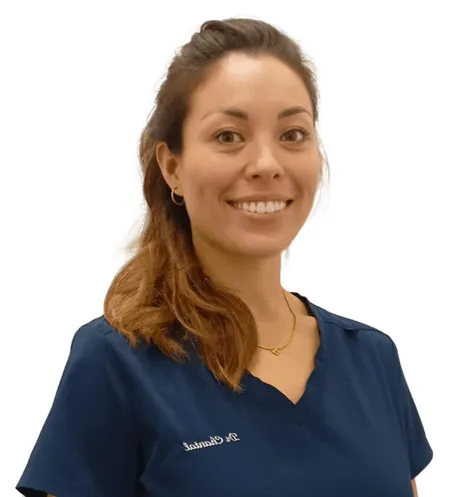 Dr Chantal Burgess
Oral Surgeon
Intermediate Minor Oral Surgery (IMOS) Level 2 London Bachelor of Dental Surgery (with Honours) BDS UCLan 2016
GDC Number. 264141
Dr Chantal is our Oral Surgeon here at East Village Dental. She is a Dentist with a Special Interest in Oral Surgery which means she performs complex extractions that have been referred on the IMOS NHS pathway by dentists within London, as well as on a Private basis.
Dr Chantal qualified as a Dentist with honours in 2016 having originally graduated from The University of Birmingham in 2012 with honours as a Dental Hygienist and Therapist where she was awarded 'The Highest Marks in Finals' and 'The Highest Marks in Restorative Dentistry'. After a successful vocational training year in Bristol, working in one of the largest single-site practices in the United Kingdom, Dr Chantal undertook secondary care Dental Core Training (DCT) in London. Here she completed two years as a Senior House Officer in Oral and Maxillofacial Surgery at Northwick Park Hospital and The Royal London Hospital. During this further training, she honed her oral surgery skills, performing extractions of complicated wisdom teeth and surgically removing retained roots. Working at a busy major trauma unit allowed her to thrive under high-pressure situations, manage patients with complex medical histories and enhance her oral cancer detection. She also continues to work as a Staff Grade Oral Surgeon at West Middlesex hospital.
Whilst working in London, Dr Chantal attained the Diploma of Membership of the Faculty of Dental Surgery (MFDS) at the Royal College of Physicians and Surgeons, Glasgow. NHS England and NHS Improvement (London) has recognised her oral surgery skills and accredits her to perform Intermediate Minor Oral Surgery (IMOS) Level 2 in primary care.
Through her education and career progression to date, she has demonstrated her hard-working ethos and dedication to her dental career. Patient testimonials reflect her friendly, personable nature and professionalism.
Outside of dentistry, she enjoys spending time with her family and friends exploring various cuisines. Her passion for food is combatted by undertaking a range of sporting activities which include netball, strength & conditioning, badminton, bouldering and many more!
Back to Our Team